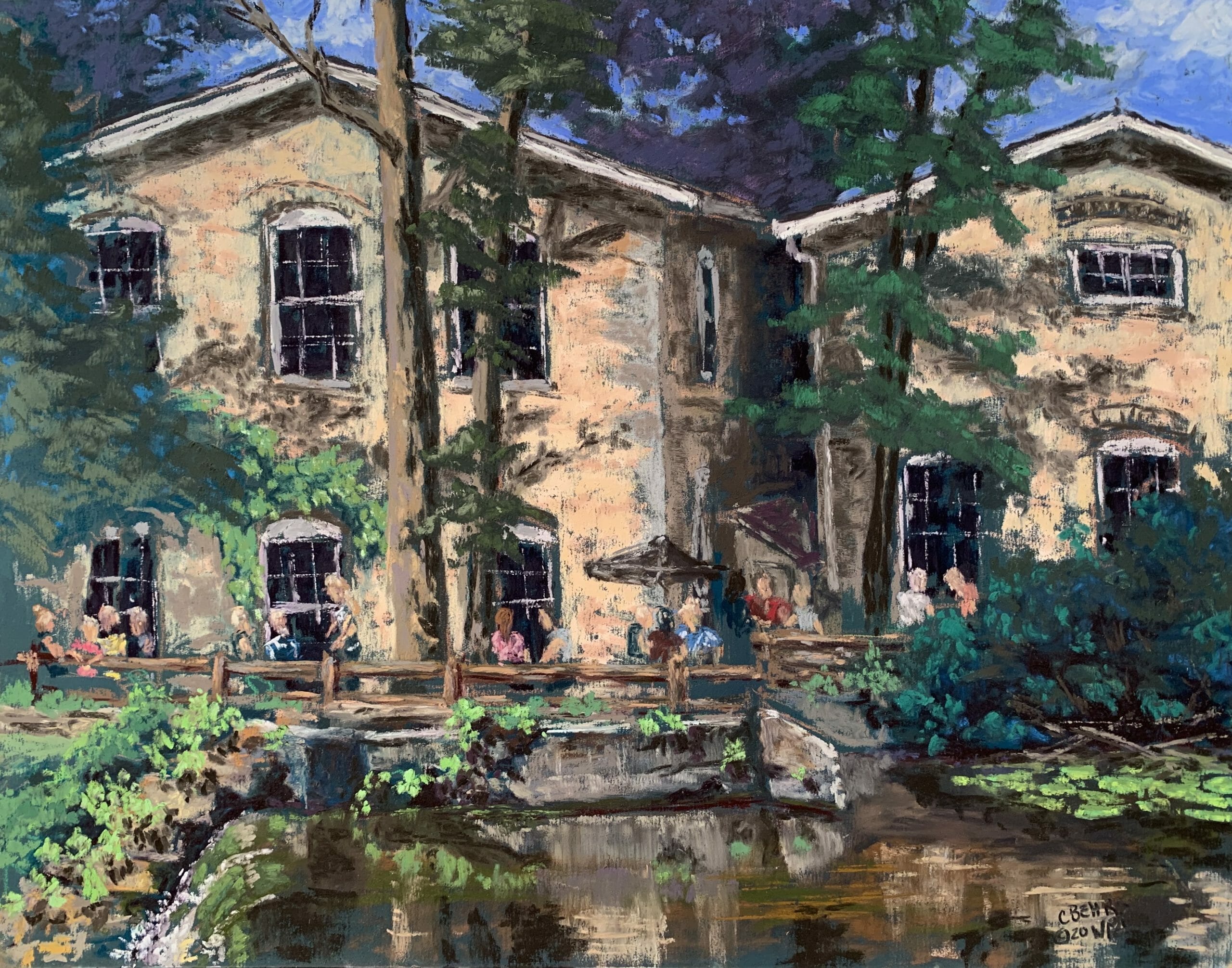 Chris Behrs
Pastel Artist
I am a pastel painter working exclusively with dry pastel.
Pastels are literally sticks of pure pigment I can hold in my hand.
I apply the pigment on sanded paper. The rough surface grabs and holds the powdered pigment.
I am inspired by the lives and events of everyday people, at work, and at play. I am drawn to musical events, festivals, farmers markets, and outdoor cafes. Anywhere people gather is a moment I want to capture.
I also have a love of nature and landscapes of all kinds have been a subject of much of my work. I am especially driven to paint clouds and the effects of light. The transitory quality of each passing moment as the sun rises or sets is difficult to capture, however, offers the most satisfaction for me in my work. The wonders of our world supply an abundance of subject matter.
Ritamarie Balcerzak
My ink drawings are personal interpretations of negative space. Textured lines, design and contrast with geometric undertones create 'contact-sparks' that can trick the eye and hide what may or may not be seen.These doodles represent mood, perception and context within which the drawing is often completed with a title using a play on words. The product is then 'sold' to this artist when there is a sense of closure in the 'framed' experience only to be filed away. For artists who are looking for a light summer read consider: https://mlpp.pressbooks.pub/thefakeadventuresofthecheshirecatinwanderland. It is a short satirical story I wrote about the initial challenges of entering the art-world accompanied by inspired paintings contributed by 3 additional artists. More examples of my drawings can be found on instagram [@ceeceezak].
Sheila Bergman
Website: sheilabergman.net
I am a dabbler. Exploring new media and subjects engages me.
---
Edna Blanchard
Art is a journey. Mine began in 1968; acrylic classes by Jo Kossett followed by oil instruction John Peyton, Edie and Jim Van Camp. My first plein air class: Taos with Kim English 1995. Built a studio/gallery at 5759 Old Miller Trunk Hwy., Duluth, 2007. My work reflects my love of nature. I have learned from workshops, classes, books, art mentors and videos. I facilitate a watercolor class at U of MN,,Duluth. I share what I've learned, find joy and appreciate others on this fulfilling, challenging endeavor called creativity. Port Wing has been a plein air event that I enjoy. I thank the committee for the opportunity to attend this year.
Pete Border
I have been painting for about thirty years (with a long gap to have kids). Usually I work in oils on portraits and landscapes but have recently taken up plein air work outside. Rather than deal with a car full of wet canvases I tried switching to acrylics, then had to learn how to paint with acrylics. Anyway, last year's Festival was a good time so I am coming back this year and hoping to get some nice work in. Port Wing is a great place to paint!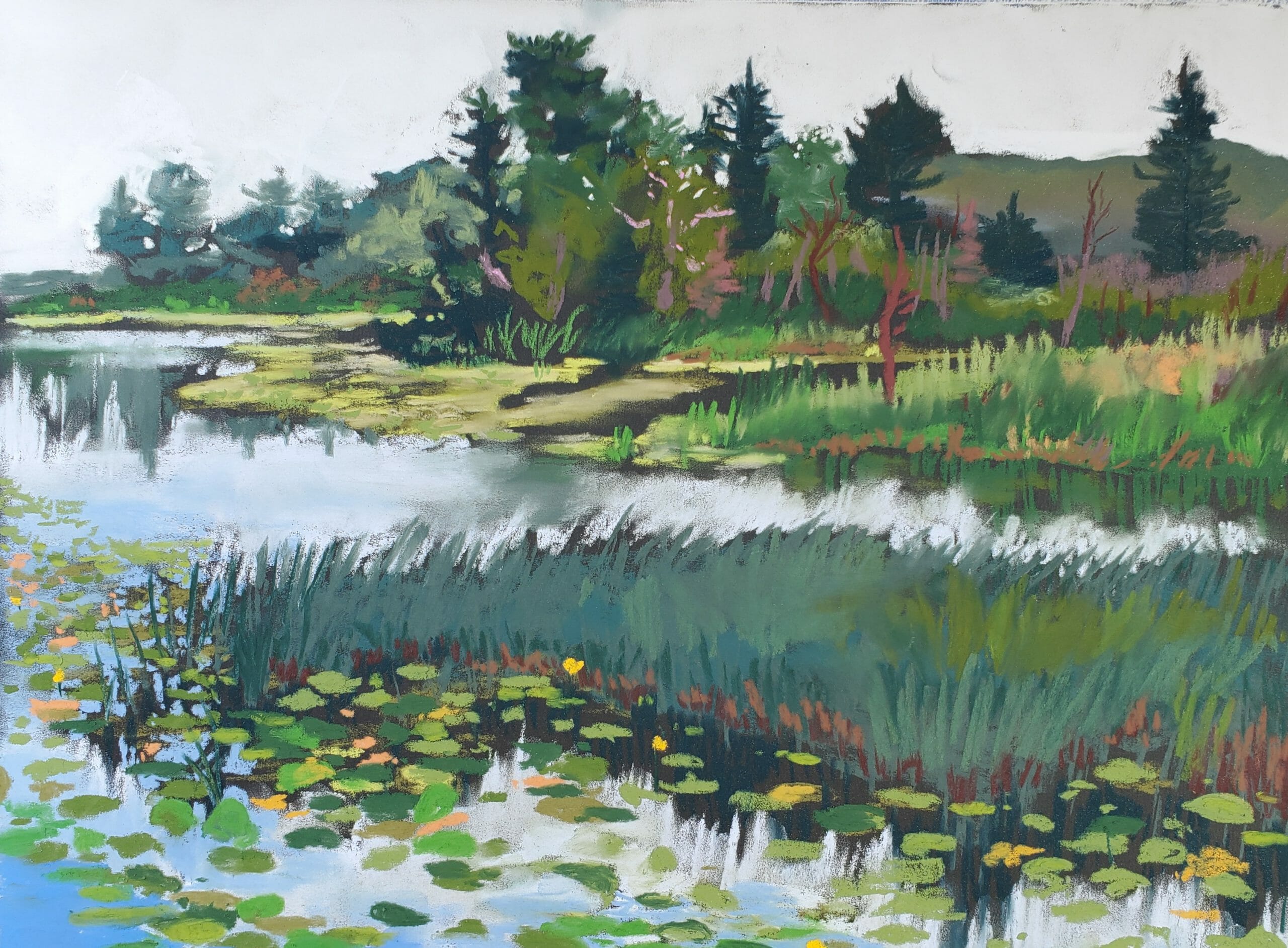 Gretchen Burke
I live in Ashland WI and enjoy pastel painting with our local pastel society in Washburn. My work reflects nature and travel.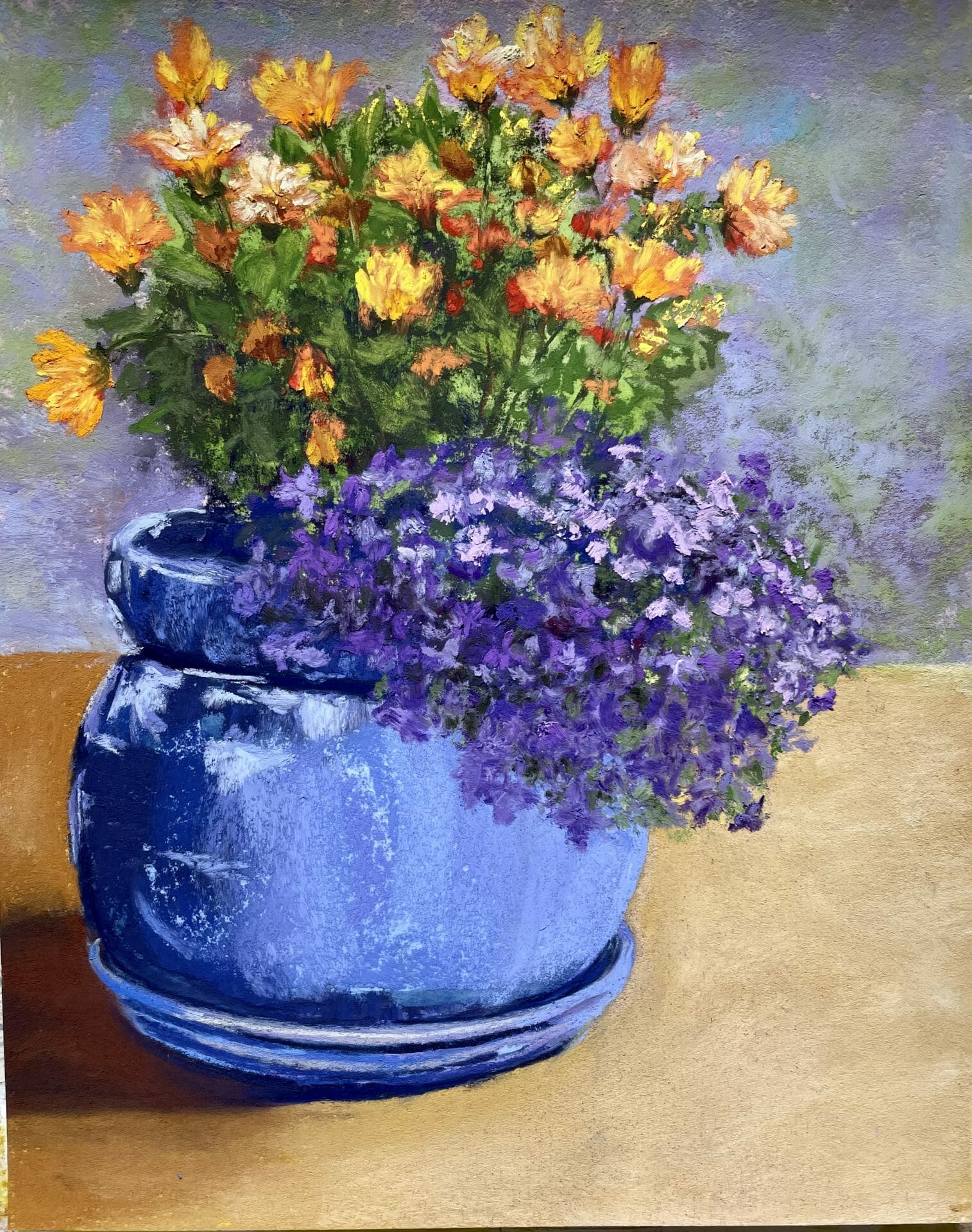 Ann Christensen
Painting our beautiful Chequamegon Bay is a passion and a joy. Every day brings new light, new vistas, new paths, new skies and reflections. Painting Pleine Aire with friends is just the icing on the cake!
Patty Dillard
Dixie Dykstra
Jerelyn Flom
I started out painting in the 80's with water color. In the 90's I went to oil I do both now. I enjoy painting Castles,Landscape's,Dogs and. Lake Superior/Duluth. I am a licensed Cosmetologist, for 56 years. Now retired. I taught Cosmetology for 25 years at 916-Northeast technical College now known as Century College. The rest of the years I worked in the Salon I am looking forward to getting into Plein Air.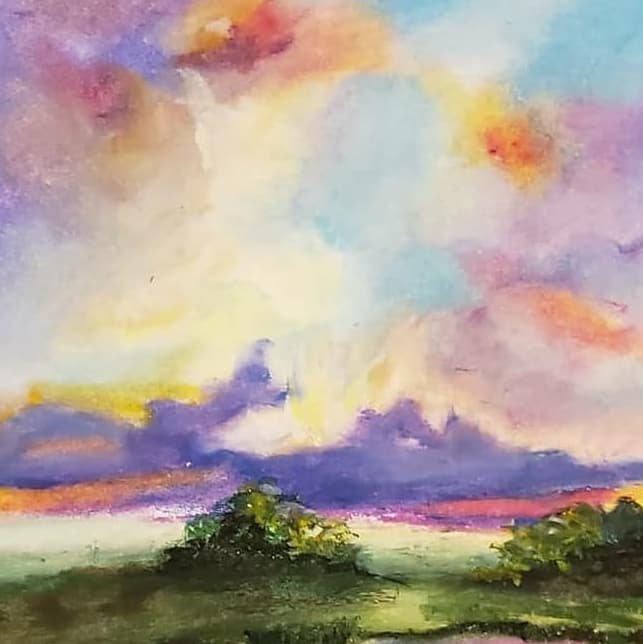 Emily (Guststafson) Franzen
Emily Franzen grew up in Port Wing Wisconsin and spent her summers swimming in Lake Superior. After college, Emily attended graduate school and met her husband Austin Franzen. Emily and Austin got married on July 23rd of this year. Austin and Emily currently live in Hudson WI. Emily works as a school psychologist for CESA 11. She paints and does wedding photography when she has free time.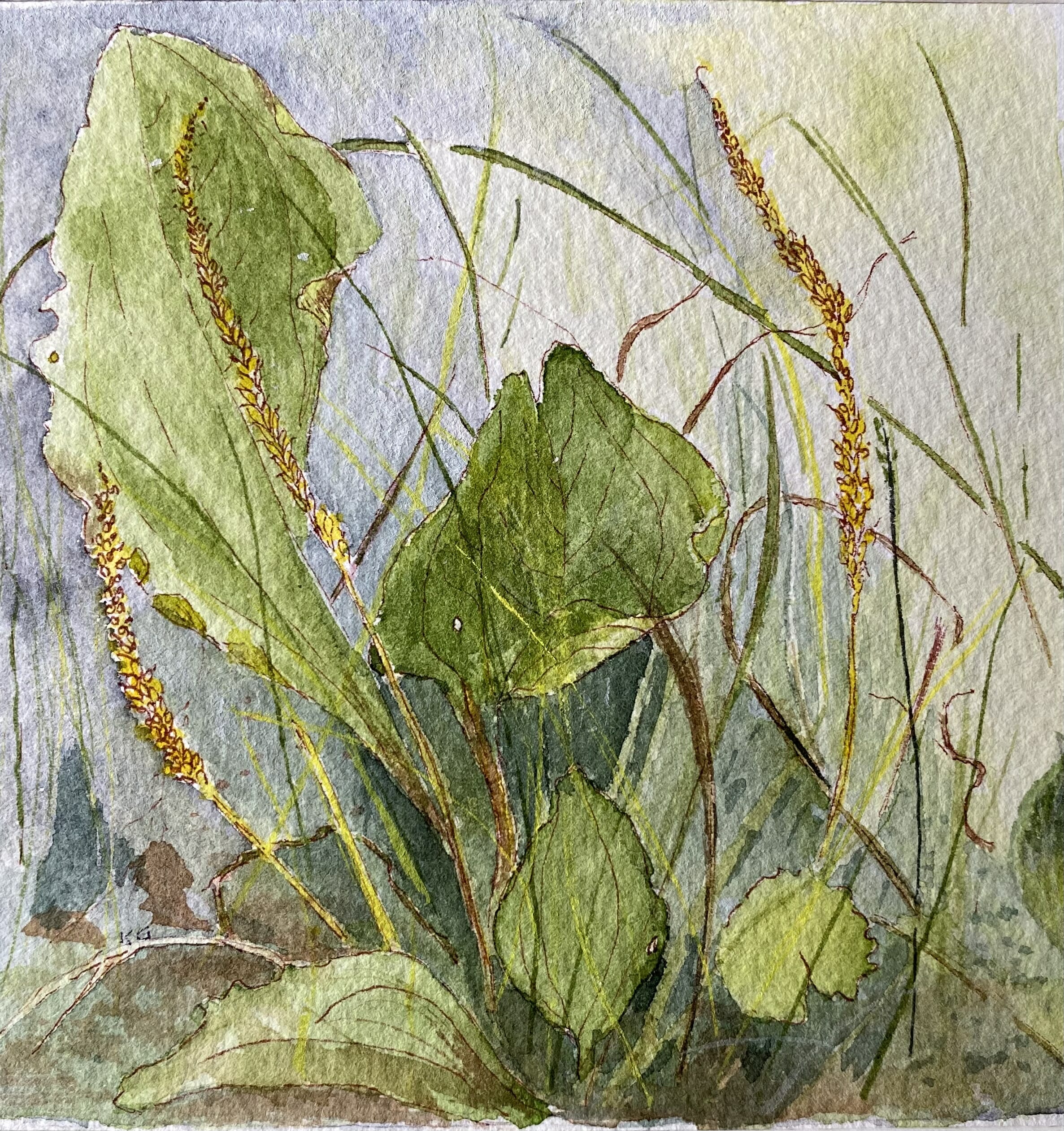 Kathy Gilmore
Kathy Gilmore has been an artist her entire life. She received a Fine Arts degree from Illinois State University. After a career in Social Service Evaluation and raising a family, she has returned to art making. Kathy has an intense interest in the natural world which informs her practice. She is currently pursuing this through the medium of watercolor. In 2016, Kathy received the People's Choice Award at the Port Wing Plein Air Painting Festival.
Susie Gilmore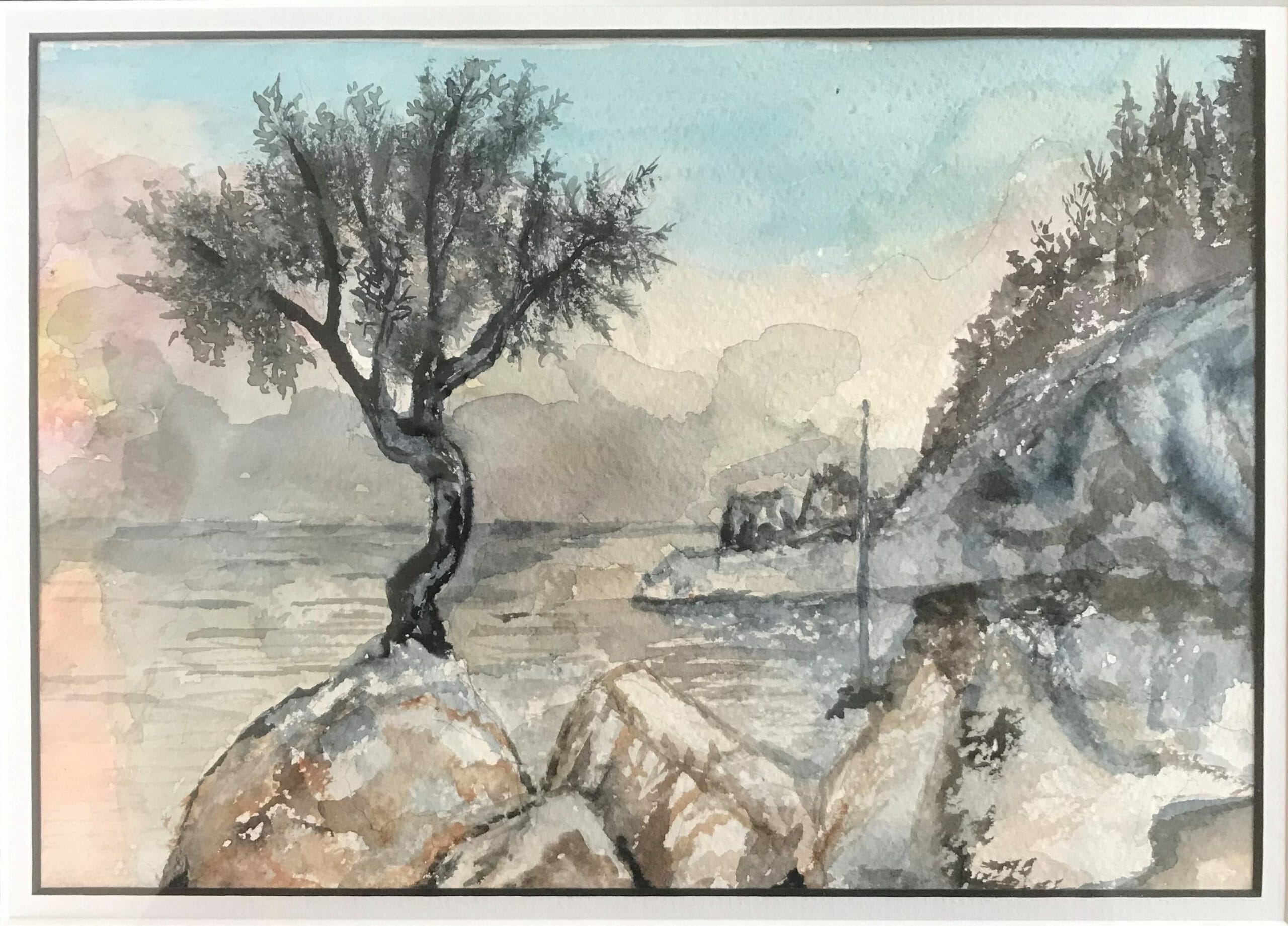 Dee Ginther
Sharon Graham
Bob Haddow
Cherry Hanna
Cherry Hanna lives near Lake Superior. She is married, with two children and delights in her three grandchildren. Generating a broad repertoire from studios in Wisconsin and Arizona, she also paints in western Michigan.
Her oil, pastel and watercolors lean toward impressionistic, expressive realism. Appreciation for the old and rustic generate architectural detail and antiquity in her work.
Her HEARTLAND COLLECTION depicts wildlife, farmland and historic landmarks in the Great Lakes region. Her Accidental COWGIRL SERIES is dedicated to her feminine view of all that is western. Her KID LOVE series honors grandson, Wyatt Hanna, who died at six years old. Her portraits honor those who've been lost, or have overcome great odds.
Cherry chooses to present a bright side of life. Her simple mission is to LIGHTEN HEARTS WITH ARTISTIC ENCOURAGEMENT, AFFIRMATION AND LOVE.
PROFESSIONAL AFFILIATIONS
OPA, Oil Painters of America
https://www.oilpaintersofamerica.com
PSA, Pastel Society of America
https://www.pastelsocietyofamerica.org
AWS, American Watercolor Society
http://www.americanwatercolorsociety.org/
Artists in Arizona
http://www.artistsinarizona.com/
Susan Hayden
I began painting outdoors back in 2002 with my co-workers in animation; primarily across the west with its big rugged shapes. Now I live on Lake Superior and I'm still struggling to see the forest for the trees. All these trees.
I paint in oils and tend toward realism. However I think my voice is still out beyond that and I'm hoping to push some limits during this event.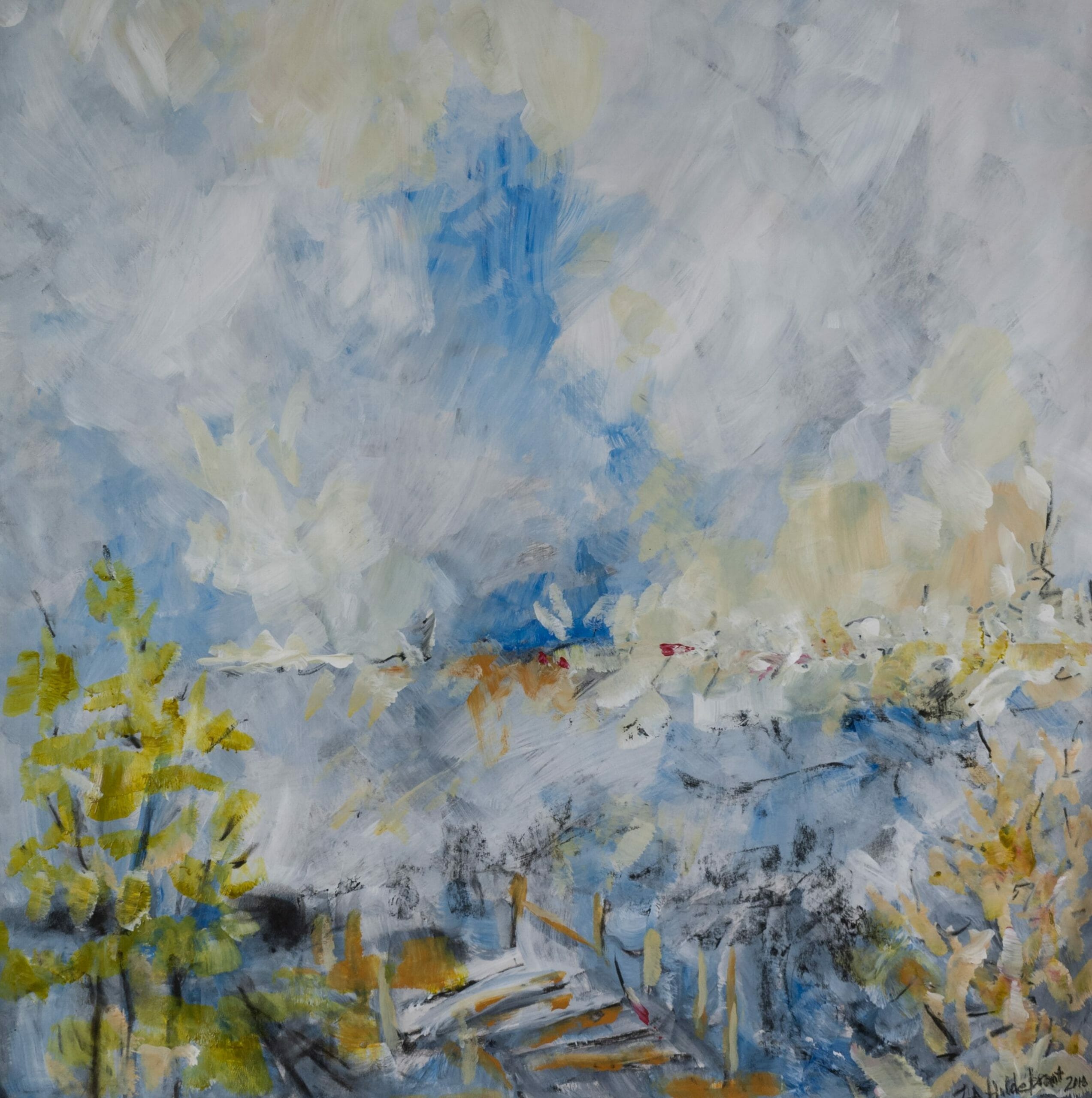 Linda Hildebrant
Drawing and painting often seemed easier and more joyous and playful when I was very young and over time became less about fun and more about results. I grew up loving to draw, paint and read and like many others, started by drawing what I observed and what I liked. And I still draw and paint what I observe based on what I see around me, choosing subject matter from what instinctively resonates. However, I've learned to recognize that often the art is in the process as well as the final work. There is excitement, anxiety, fear, bravado and joy in making each decision, big and small, conscious and unconscious until a piece is complete.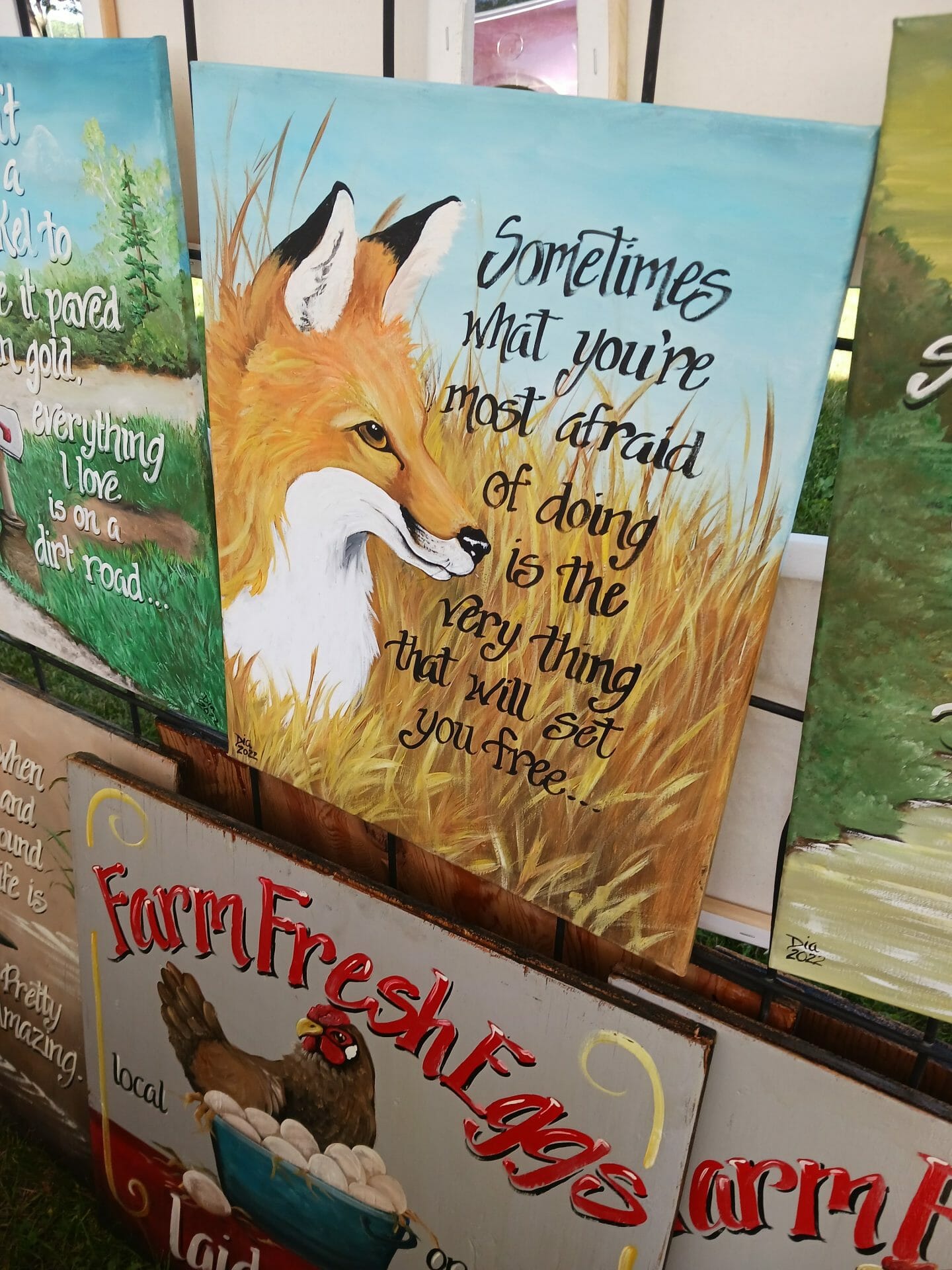 Dianne Hooker
I am a self taught artist, with roots in Port Wing, that has been painting all my life and as a business for 16 years. It all started when my daughter wanted to rescue horses and needed money to pay the horse board. The business name is Crestions for Gracie, Gracie being a name of a special horse at the time. Now we own a farm in Northern Wisconsin where we can live with the animals. What we rescue now is fox.
I continue to paint to support the animals and ourselves, traveling from show to show selling my work and supplying others who sell it as well.
Jon Hove
I reside in Port Wing, WI and occasionally paint, usually landscapes or capturing the mood of the Lake. Here's a painting of Lake Superior. As a youth I used to watch my mother paint landscapes in oils and submit them to the County Fair. She was a perfectionist. I am not. Although I paint in oil and watercolor mostly, I also create pen and ink or pencil drawings. On some of my work I include poetry that I have written. I enjoy painting a wide array of subjects from water to architecture to trees, basically anything that catches my eye through color combinations, interesting shapes and shadow effects.
Dana M Johnson
Website: danamjohnson.square.site
Dana paints outdoors year round. She loves to be immersed in the outdoors, even with the often unpredictable elements of sudden weather change or bugs. Dana has a BFA in illustration from the University of Wisconsin Eau Claire and studied plein air oil painting
at the studio of Joe Paquet in St. Paul and at the Madeline Island School of the Arts.
Neil Johnston
Website: paintstew.com
My experiences in artmaking began when I was a kid and my love for drawing. Later, I began my painting training as a billboard painter and muralist in my early through late-20's, later going to school to study painting at the College of Visual Arts (BFA) and the Minneapolis College of Art and Design (MFA). I make paintings using multiple materials, substrates, and media: oil, acrylic, pastel, gouache/watercolor, resin, ink, and others. I think of my painting process often as an exploration or experiment, and work with themes of time, memory, place, and history. I really enjoy getting out of the studio, to work outdoors, either abstractly or from observation. When I am not painting, I am renewed by the creativity and energy expressed by my students in the Painting and Foundation 2D Design classes that I teach at Century College in White Bear Lake, MN. For 20+ years, I have traveled to Port Wing, WI from Shoreview, MN to enjoy the lakeside landscape, visit family friends, and to paint. I look forward to returning to Port Wing and the South Shore to do some painting with you! www.paintstew.com
Bruce Kiel
Caren Martin
I have been painting off and on (mostly off) since I was in elementary school. Oil paint is my medium of choice, though I also like watercolor—so very different! For the most part, the landscape is my preferred subject. Seems like water, rocks, trees, sky, and the play of light draw me to their constant beauty and ever-changing characteristics. I have taken a weekly class from plein air artist Richard Abraham in St. Paul for the past six or more years. It has been a way to ensure that I make time to paint. The oil painting process reveals both inspiring, pleasing surprises and disappointments alike—depending on the day. For the past few years, I have been working to loosen up—say more with less information on the canvas. The plein air experience definitely pushes that envelope.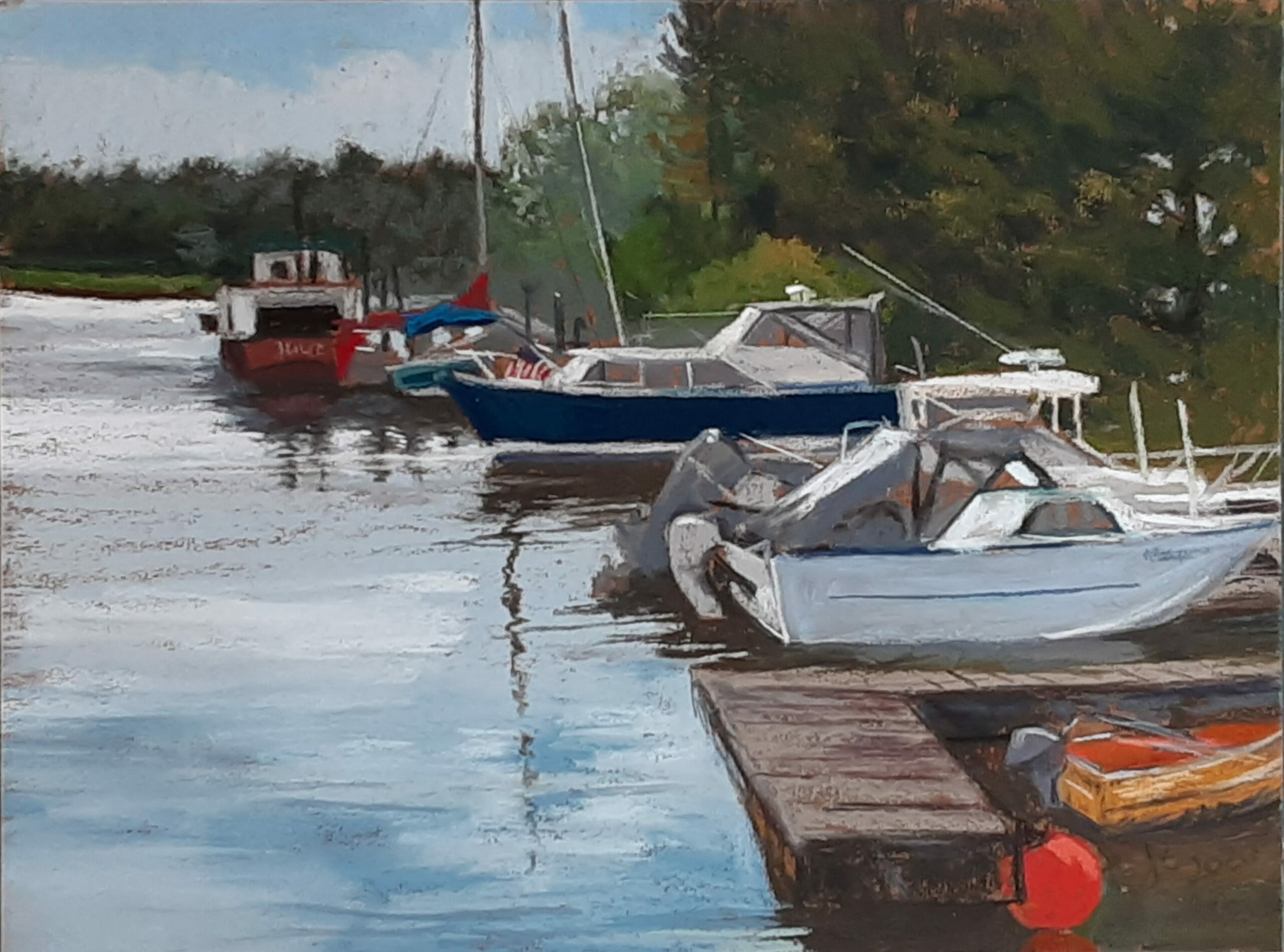 Joanne Carmody Meierhofer
I am a pastel painter and feel that it's the perfect medium for plein air. A life long painter I took to pastels in 2001 and did some of my first plein air work around 2006. Since moving to Ashland in 2011 I've been very active, joining with other pastel painters and entering plein air festivals. I am so happy to live up here in this beautiful part of the world. Every season offers its own opportunity to capture color and light. I've even painted with some hardy souls in winter in Northern Minnesota.
Scott Moen
Susan McDonald
Susan Strong McDonald spent two summers studying Entomology and Botany at the University of Michigan Biological Station in Pellston, MI before graduating from college. After studying Art and Woodblock Printmaking in Japan, she taught Art and Art history at North Hennepin Community College for 25 years in Minneapolis. She completed her PhD at the University of MN in Art History. Usually she paints botanical watercolor paintings. She hopes that her love of nature will sustain her in this first Plein Air painting venture.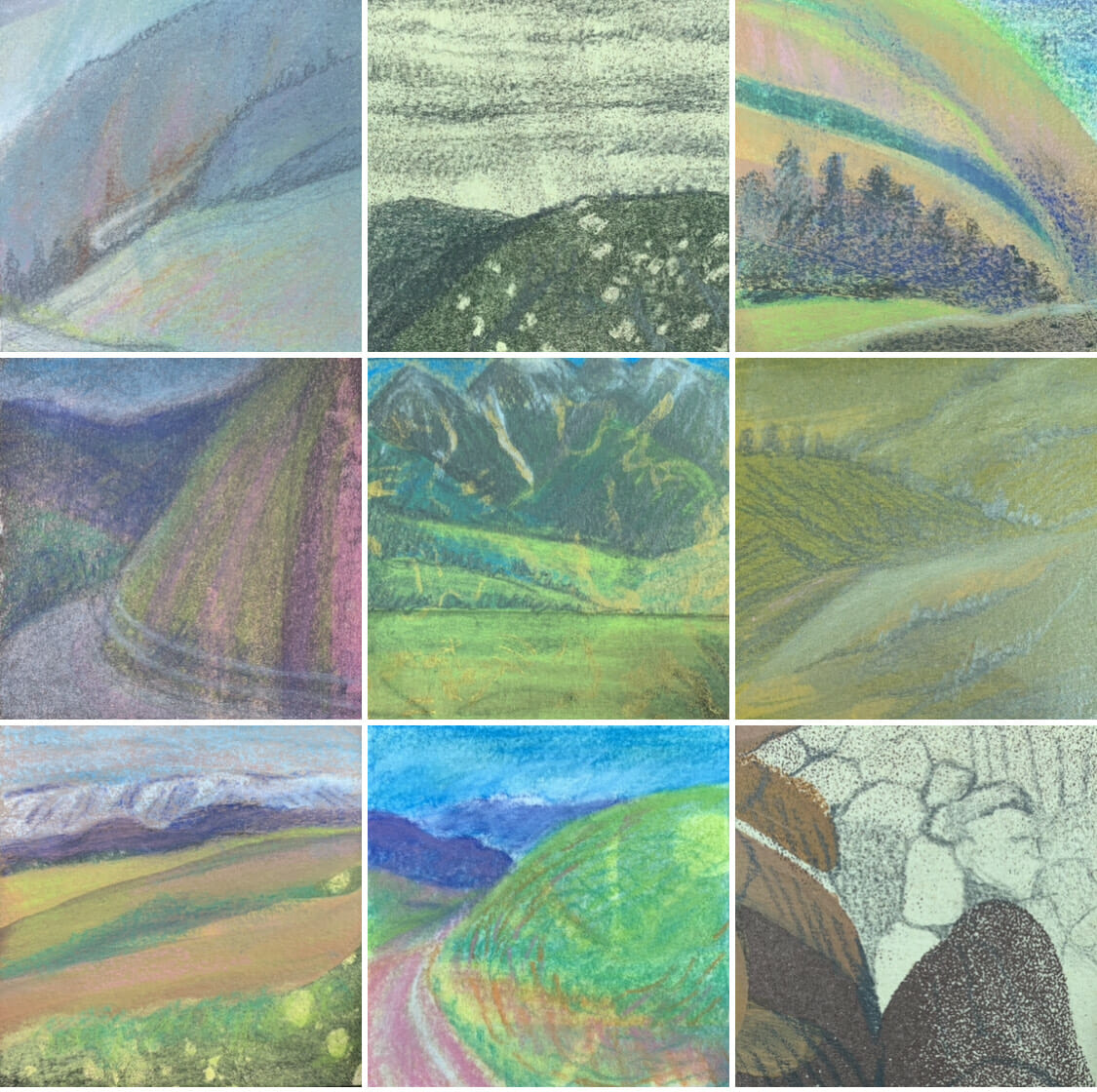 Rachel Melis
Rachel Melis is an Associate Professor of Book Arts and Printmaking at the College of Saint Benedict & Saint John's University in Minnesota. Raised in a family of artists outside of Port Wing, Rachel received her BA from Grinnell College in Iowa, and her MFA from the University of Wisconsin-Madison. Her drawings, paintings, prints, books, and installations embody natural cycles of carrying, caring, and questioning control.
Lenore Quandt-Smith
I am a self taught painter. I work in Watercolor and Acrylics. I have over 40 years worth of a love affair with color; with time out for children.( I still fed my need to create by quilting while children grew up.) I tend to paint whatever catches my interest at the moment. The Port Wing event is usually a chance for me to try and loosen up a bit.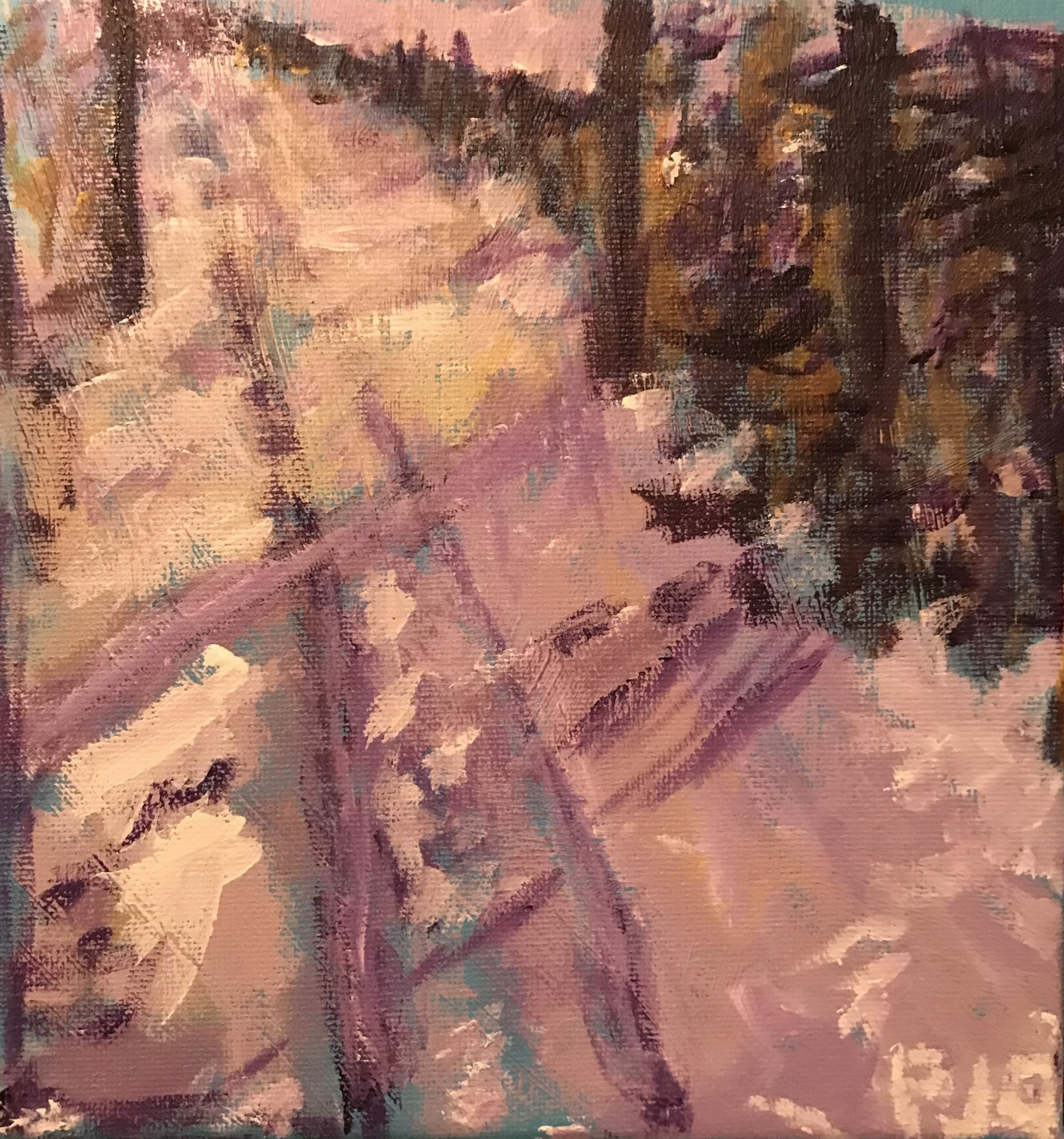 Paul Quie
I am an artist, which means I create. I work mainly in oil and dabble a bit in acrylic. I enjoy getting to know the essence, the feeling, the look of the object/scene/ person and having fun and joy creating my impression. My daughter did a painting of a bridge when she was age 4-5 and I am working towards that feeling and look: FREE, FUN and FULL of LIFE. My adultness gets in my way but I keep at it and enjoy the creative process as I move from my brain to dancing on the moon.
Cynthia Schipper
As a Teaching Artist in care centers and assisted living buildings I facilitate mini art vacations. We focus on supporting each other to have a great time while we create some art that pleases us. For both watercolor and acrylic sessions I provide stencils or sketches but also challenge the artists to "just experiment" and "take a risk." Before Covid prevented group sessions, our acrylic painting sessions featured juice or wine sipping and lots of supportive laughter in the midst of some serious painting. I am "experimenting" and "taking a risk" to participate in this festival. I expect to learn a lot from other artists as I have a great time on this mini-vacation.
Tonja Vojacek Sell
I am an intuitive painter rather than a process or systematic painter. I have an idea inspired by my subject, light or vista and I paint. I rarely know just where I'm heading when I begin. I enjoy the process of letting things unfold and become. I am very conscious of light, color, design and movement. While painting en Plein air I am very aware of atmosphere and try to catch it on the canvas. I like to draw as well as paint and sculpt. I want to feel what I am making, to become a part of it. To me, a piece is successful if a viewer is compelled to explore and move around and through it.
I'm a local. I grew up in Oulu and went to high school at South Shore in Port Wing, so this is home to me. I grew up in a creative environment where exploration, invention, creative expression and hard work were encouraged and exemplified. I'm a Wisconsin native and daughter of glass artisans. I attended the Milwaukee School of Art, where I studied fine arts, drawing and illustration. I met my husband at the Milwaukee. Institute of Art & Design. After some time in Arizona, we returned to Northern Wisconsin to start a family and build our home, studio and gallery near Lake Superior. I continued to develop my work while raising and home educating our four kids.
I have been represented by galleries across the country and have work is in multiple private collections internationally. Locally, I have created murals for the Minnesota Discovery Center and the Carnegie Foundation at the Two Harbors Public Library.
I teach classes across the U.S. A, in my studio in Oulu, WI and Matt & I also lead International Art Tours to Spain, Italy & France, where students explore and create.
Lisa Stauffer
Lisa Stauffer PSA, IAPS- Master Circle lisastauffer.com Lisa Stauffer received her Master's in Design (University Of Minnesota, Minneapolis) and studied Illustration at Parson's School of Design (NYC). She enhances her education by taking workshops from nationally recognized painters whose work inspires her. She has worked and taught in a wide variety of media, now primarily painting in soft pastel with a special focus on painting en plein air to indulge her fascination with light and color in Minnesota's beautiful north shore landscape. Lisa was awarded Master Circle status by the International Association Of Pastel Societies in 2011. She was awarded the H.K. Holbein Award at the Pastel Society Of America Show at the National Arts Club in New York City, September 2010, and the Pastel Painters Of Cape Cod Award in 2012. Lisa's paintings were chosen each of these years by the Director of the Butler Institute Of American Art, Youngstown, Ohio, for inclusion in the annual exhibit, American Pastels. Lisa was juried into the Pastel Society Of America and awarded Signature status in 2012. Her work has been featured in articles in PleinAir Magazine, Pastel Journal, Stephen Doherty's book, The Art Of Plein Air Painting and in two PBS specials on painting.
Lydia Steiner
While my primary focus is in the realm of digital art, I am at home in traditional media. I love working in a variety of mediums, whether its oil, watercolor, or even just pen and pencil, each one brings skills and challenges that feel rewarding to learn and understand. Gouache in particular has become a recent favorite of mine, with its unique qualities, familiarity of watercolor and ties to animation history.
---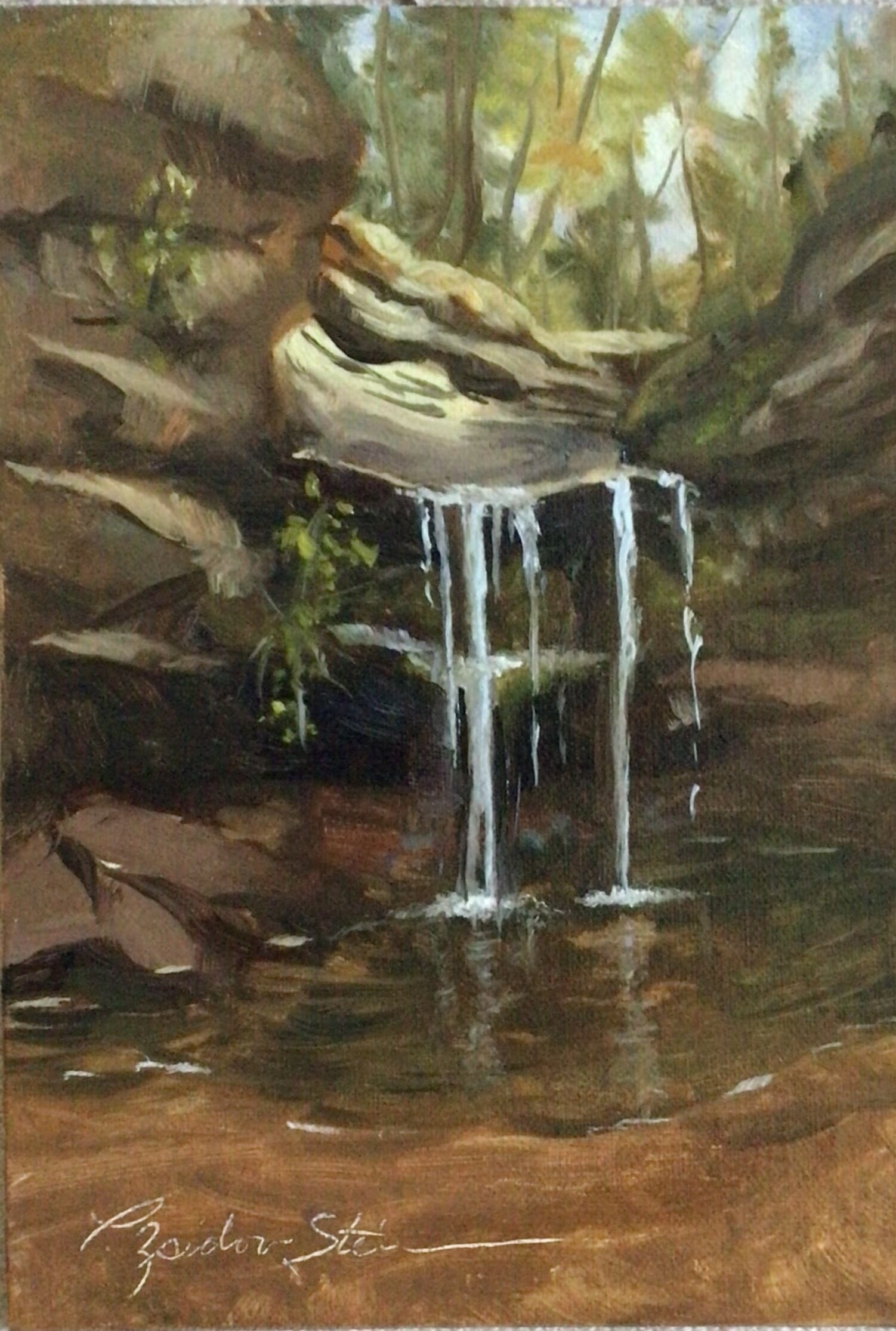 Lynn Steiner
Website: lynnsteinerartist.com
4 years ago I relocated to this area from Marinette County, Wisconsin, drawn here by my love of wilderness and the outdoors. Since then, I never have to travel far to find the perfect inspiration. I paint primarily in oils and sometimes in watercolors. A few years ago I took up plein air painting; it combines my two passions, art and the outdoors. Most of my work reflects the trails I hike and all the things I love. Occasionally I paint still-life's' and play with watercolors. Like many artists, I developed my artistic sensibilities as a child, later trained in Graphic Art, and took Fine Art courses in college. I am inspired by several classic old style painters and a few current artists. As a committed life time learner, I continue to refine my observation and painting skills.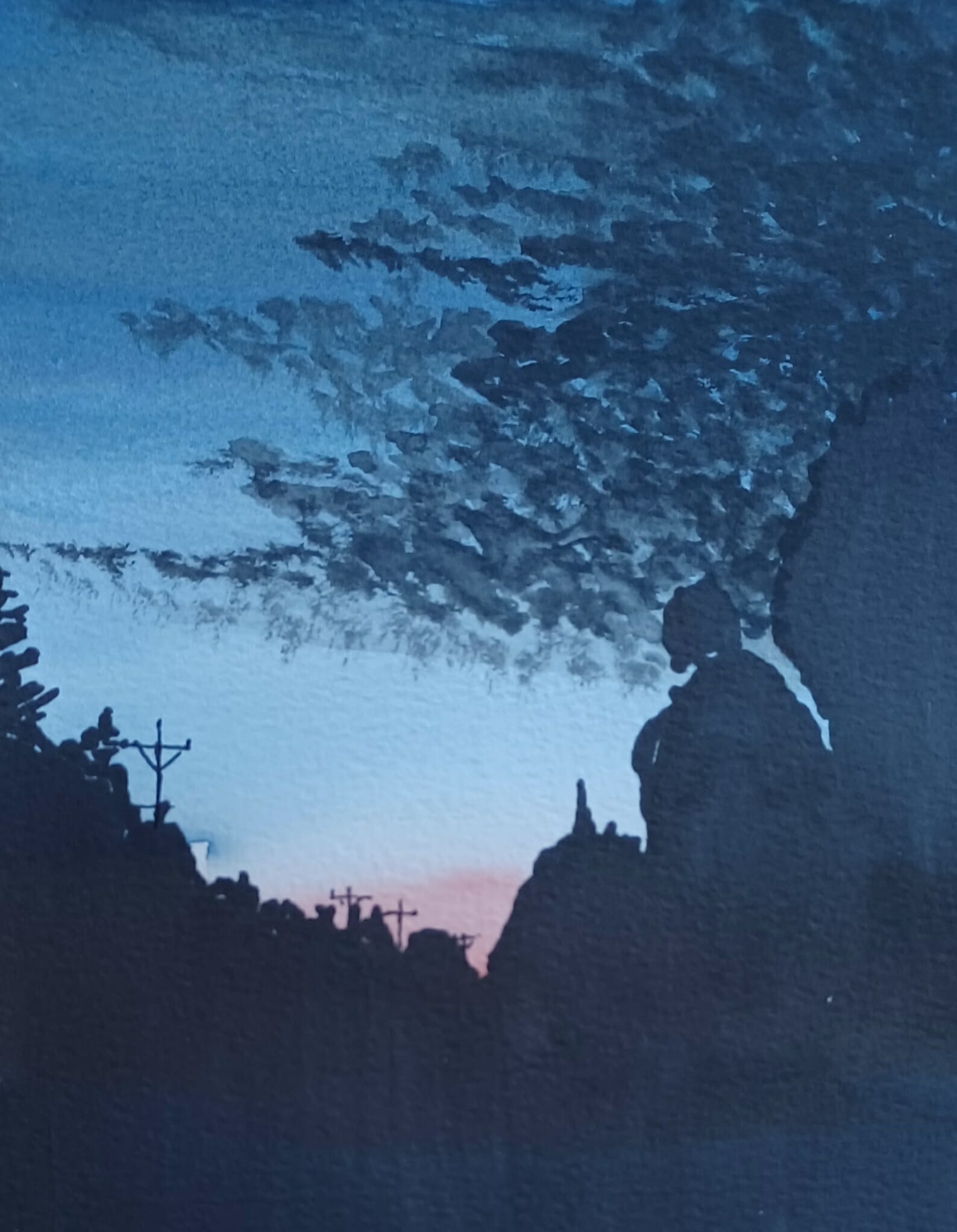 Sally Stimac
I was born to do art. As soon as I could hold a crayon I have drawn. Cardboard boxes were my canvas. I drew all the time then and still do. Then my father gave me a refillable felt pen with different tips and colored inks. I went from there creating art. Then, when I was 16, our neighbor, Homer, who was a water color artist, got me and my brother George into his studio and introduced us to water color. Now that opened a whole new world to express my art. I have no real formal training, pretty much self taught. I feel that have been given me freedom to explore it all. I draw and paint in assorted ways with different mediums all the time. It's my joy in life, sharing creations and talents, such a joy.
Richard Stryker
I'm looking forward to painting in Port Wing again this summer. The South Shore of Lake Superior is beautiful, inspiring and a challenge to paint. It's fun to take the time to immerse yourself in plein air painting for a couple of days with like-minded souls. I majored in Art History in college and unsuccessfully tried teaching art at a high school in Colorado Springs. I retired after working many years maintaining buildings and grounds keeping for the Minnesota Historical Society in St. Paul. Here's a painting of the beach in Herbster, WI.
Steven Wysocki
I love to paint and am always painting, even when I don't have a brush in my hand, I can't get away from it, it's that simple. When I'm in my studio and run out of ideas I know it's time to get out and do some Plein Air painting; then the subjects just appear.
My mission is to show beauty in the ordinary, to allow the viewer to experience an image they see every day in a new way. I gravitate to ordinary scenes and structures. I see the hard edge contrasts these everyday objects convey, and try to portray that in the hues and shadows of my paintings.
I am always looking to create an atmosphere in my work. I believe color can stand alone to convey a mood in a piece of work. I like to explore an image by playing with the many warm and cool tones.
This is what drives me to paint. I like to let the paint tell the story that I am trying to convey. I don't like to dwell on every detail for someone to see my intent, but I also don't like my paintings to be muddy. I like them to be loose, wet on wet, what ever you call it, my painting style is not controlled—it's more of a discovery.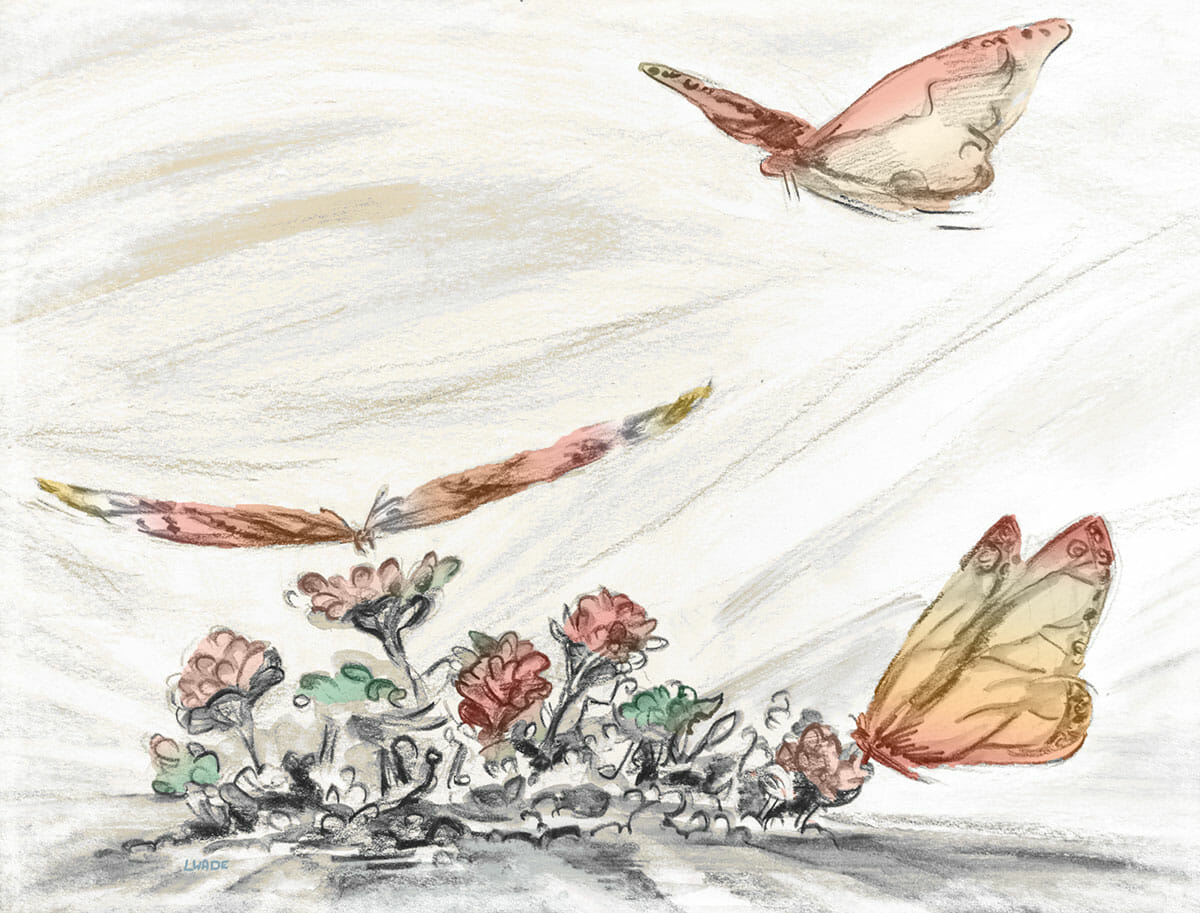 Laurice Wade
There is an infinite ocean of perceptions and inner connections beyond what we can normally sense. I am often surprised when I stumble across a vital connection. What if, one could bring the unseen into view – to reveal it? Could it help others be more present? When connections are pronounced, they illuminate our lives in wondrous ways. Catching the visual reflections and observing the transitions from outer to inner worlds, gives me the opportunity to share and perhaps inspire others. I draw to release vital truths and core realities my thinking mind does not even know. The focus of my art is to reveal and share positive insights. Beauty, truth, and the wilds we need to find and nurture.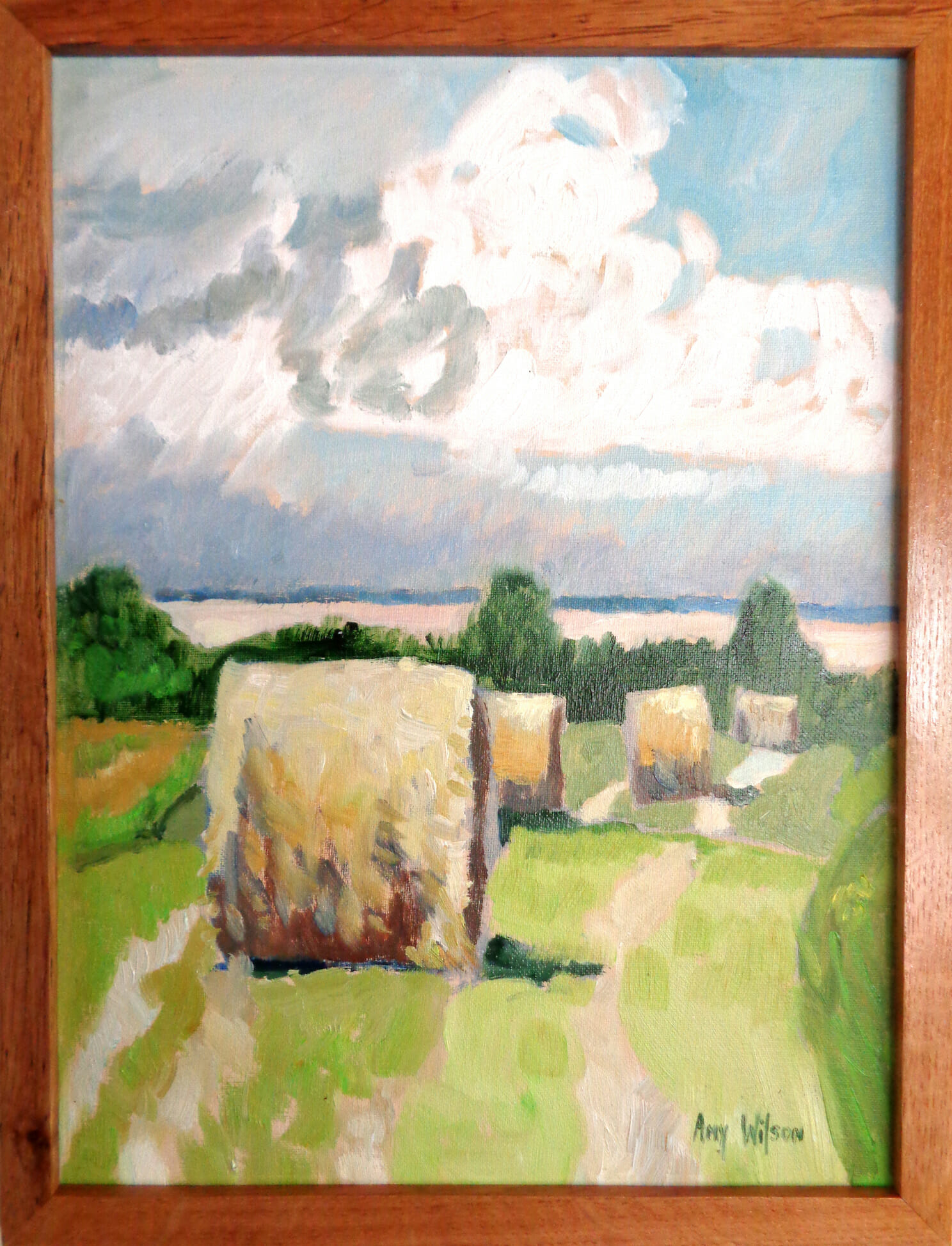 Amy Wilson
https://www.facebook.com/SunFarmArts/
Knowing Nature Through Art
"What I enjoy about art is its way of showing one a deeper way of looking, seeing and thinking. To concentrate on a form of nature is a meditation that brings us closer to a contentment and appreciation of our wonderful world." Amy Wilson.
Amy Wilson has studied art since her youth at the progressive Sudbury Valley School in Massachusetts. Amy studied next at the Boston Museum of fine arts school following up with an Associate of Arts degree from Bemidji State University. She continued formal studies at the University of Wisconsin in Madison and, after a brief sabbatical of homesteading in the western corner of Virginia, finished her Bachelors of Fine Arts degree with honors at the University of Wisconsin in Superior.
Amy has worked in the contracting field and as a Solar Electric Technician most recently wrangling vegetables and seed saving as chief homesteader at SunFarm south of Port Wing Wisconsin. Amidst homestead duties she has found time to pursue painting with oils as well as watercolors and occasional wood block printing. She continues to draw in her proverbial sketchbooks and chronicle travels in illustrated travel journals as well as participating in a new collaboration of water-colorists in her region.
---